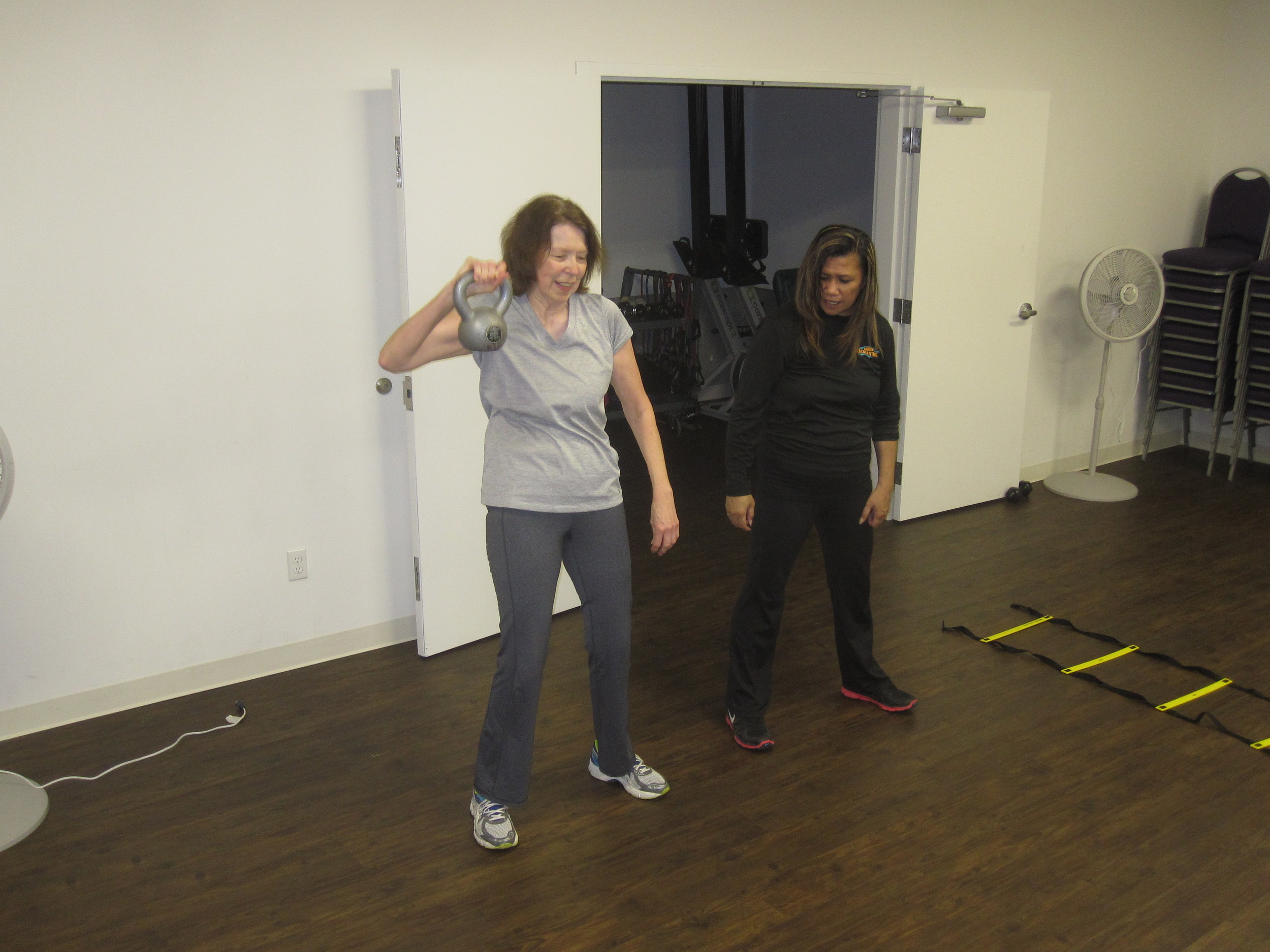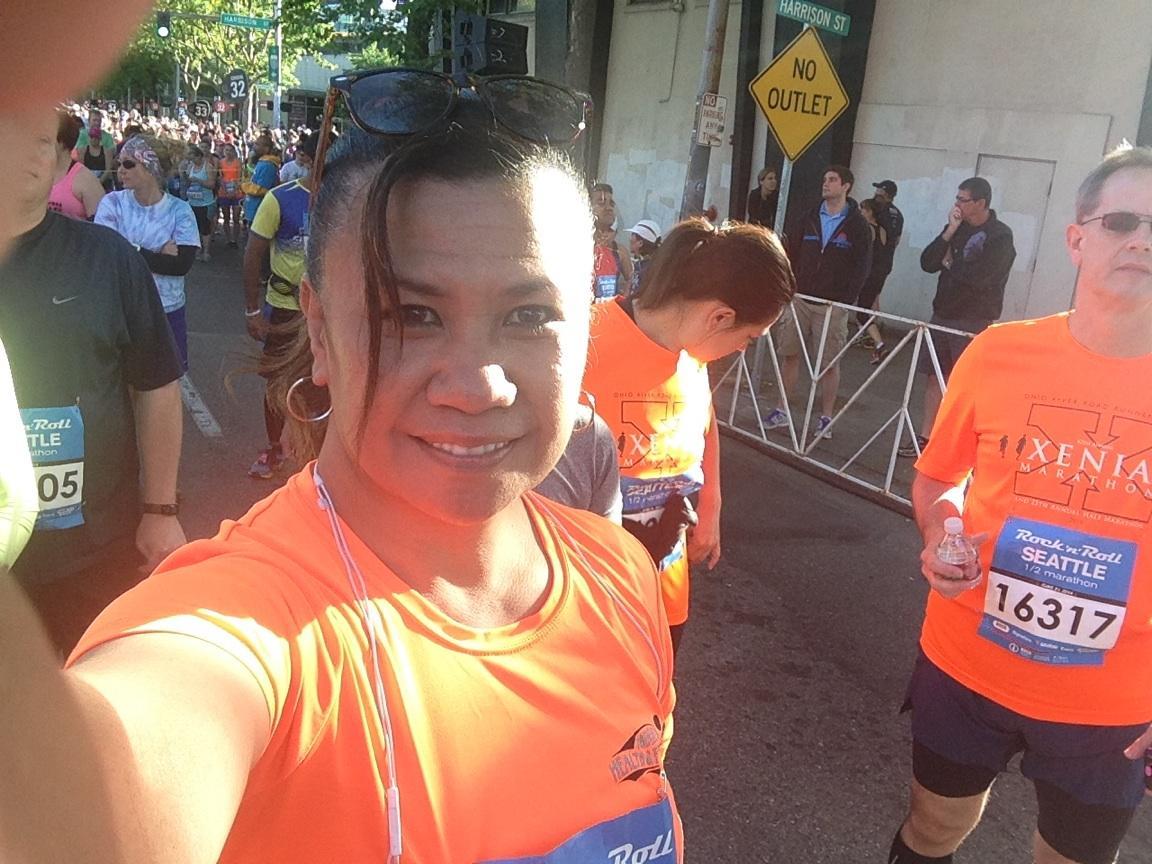 If you work out regularly, it's easy to become complacent about fitness, thinking you're healthier than most people in your neighborhood, social circle or age group. For SilverSneaker® member Dori, however, simply attending hour-long gym classes three to five days a week and completing a half marathon wasn't enough. She wanted more. At age 65, she hired Becca to be her personal trainer to guide her workouts, build body mass and increase her endurance to prepare for the 2014 Seattle Rock 'N' Roll half marathon. Although Dori had previously completed this race, her goal was to shave an hour off her time.
"At first I thought I was crazy doing an hour with Becca after the hour-long senior class," Dori said, "but it wasn't that bad."
Becca began their training sessions with an assessment that showed Dori had poor balance and a starting heart rate of 140 on the treadmill. After training for 12 weeks, her heart rate dropped to 113 on the treadmill and ended at a max of 139—heart rates comparable to a 30-year-old! Plus, she built up her body mass and improved her balance until she was able to shoulder press 15 pounds and do one-legged squats.
"She kept pushing me," Dori said, "but not beyond what I could do. She was very motivational. She knew what my weaknesses were so introduced variety to keep me from being bored."
For several months, Dori consistently ran and completed personal training workouts while still attending SilverSneaker® classes. She also kept a food journal for the first four weeks that RHF nutritional expert David reviewed and determined she needed to include more protein in her diet.
Motivated By Member
Not only did Dori push herself to new levels of health and fitness, she even motivated her trainer!
"She really inspired me so as I was watching her I started to run with her to keep up with her and also to encourage her," Becca said. "The cool thing was her desire and goals and everything she was doing inspired me to see if I could do this with her."
Becca told her she might do the race too and Dori said she would love that! Previously, the longest race Becca had ever completed was a 5K, but she started training alongside Dori during their sessions as well as on her own.
"This was her goal," Becca said, "but how cool would that be if I could run alongside her?"
Dori finished one of her practice walks in 3.5 hours so was on track to complete the half marathon in about 3 hours.
"Every time she made strides and every time she would reach a certain goal and level, it would just inspire me to run more," Becca said.
Becca continued to train on her own and ran on the weekends.
A month and a half before the race, Dori went on a cruise; she and Becca planned that after the trip, she would focus on running and less on training. However, when Dori returned a week later, Becca had decided she would not run the Rock 'N' Roll due to financial constraints and in order to support the rest of the RHF team in volunteering at a water stand.
Raced in Her Place
One week before the race Dori had an accident that left her with a concussion, black eye and scratched face. Determined to stay fit, she continued to attend SilverSneaker® classes at RHF, but Dori's doctor told she would not be able to race. Her marathon ticket, however, was nonrefundable. Becca thought it would be cool if she could do the run for Dori, yet realized she would have only one week to train hard. Becca ran on the treadmill and replenished her energy supply by eating well that week. RHF CrossFit trainer David told her that even as good of shape as he's in, running a half marathon really took a toll on his body. David told her what she needed to do to avoid dehydration. The RHF team wondered if she was really going to do it and Becca nearly backed out.
Day of the Race
On the day of the run, Becca was supposed to meet Dori at the starting line but was unable to because of the crowd. The race began at 7:00 AM and Becca joined the third wave at 7:30 AM. At mile seven, she felt intense pain in her legs but told herself she could finish. After that, every mile became a milestone for her.
Becca was sad she didn't see the RHF team at the water stand where they were volunteering; however she was amazed by the support of the community who cheered for the runners along the way. Upon reaching downtown, with just two miles left, Becca lost it. Her legs felt like lead and she could no longer lift her feet so used her hips to propel herself forward.
Having alternated between running and walking, she was going on 3 hours and started thinking, "I'm in the wrong run. I went on the full marathon route." She considered calling her sisters to come pick her up or even running away from the race. Then images of encouraging Dori to push herself on the treadmill flashed through Becca's mind. It would have been easy to give up, but Becca reminded herself that after training Dori for so long, she couldn't let her down.
"I wouldn't let not only myself down but also be letting her down," said Becca. So she determined to finish the race strong.
About that time, a lady who seemed like an angel appeared and grabbed her hand saying, "You can do this; you only have one mile left!"
When she got to last mile, Becca could hear crowds cheering and thought, "I can do this!" Completely exhausted when she reached the finish line, Becca sat on the sidewalk and sobbed. Her left leg had locked up so she dragged herself to the nearest store and bought an energy drink. She debated about calling someone to give her a ride but instead jumped on the 7 bus for home, determined to finish strong!
Training Towards New Goals
Although Dori was unable to complete the 2014 half marathon, she continues to train with plans to complete the Rock 'N' Roll half marathon next year.
"I'll try again and hopefully not fall," Dori said. She's also considering doing the Biggest Loser half marathon in October and training more with Becca for that.
"I don't want to lose the fitness levels I've gained," she said.